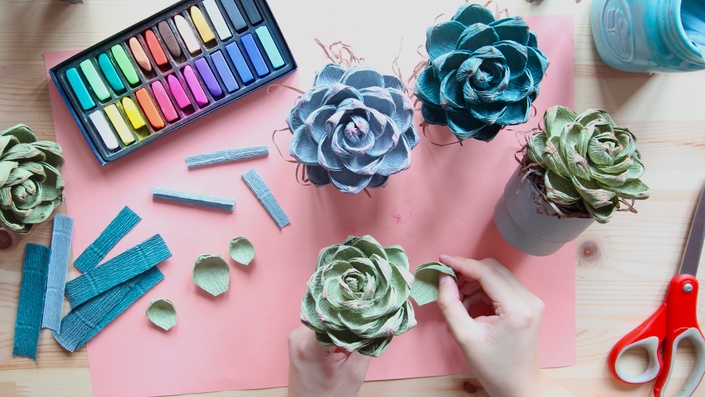 September SUCCULENTS - 1 hr Workshop
Craft an adorable crepe paper succulent in under an hour (Price in Singapore dollars)
Watch Promo
This is a pre-recorded workshop that will launch on 1st September 2020 and will remain published for 15 days until 15th September 2020.
You'll learn how to make adorable crepe paper succulents from 180gsm Italian Crepe Paper. If you purchase a material set from me, you can make a complete trio of potted succulents all from the comfort of your own home. The workshop video will be under 1 hour long.
What we'll cover:
- Sculpting, trimming and assembly techniques
- How to add colour to the tips of the leaves
- How to pot our succulents

Check out the promo video above for some workshop highlights (music from Bensound.com).

*SCHEDULE*
August 1st to 24th: Pre-sale for Succulent workshop and 2-workshop Bundle
August 24th: Last day to register for September Succulent Workshop and 2-workshop Bundle
August 26th & 29th: Students based in Singapore will receive material kits via courier
September 1st: Official Workshop LAUNCH. Workshop Video will be published.
September 15th: Workshop CLOSES (i.e. no further access to the workshop)

What is a Pre-Recorded Workshop and why is it only up for a limited time?
This will be exactly like watching a Youtube Tutorial or any of my other Online Courses, you can pause and replay as many times as you like within the 15 days that the course is published!

This is NOT a live course (i.e. no Zoom required), but rather an alternative to in-person workshops, so that you can enjoy crafting without the hassle of safe distancing or wearing masks. I wanted to also offer the flexibility of time and convenience, so that you won't need to worry about tuning in on a fixed day, or be distracted by the technical aspects of operating Zoom. You can pick your own time and set your own pace to complete the workshop.
The 15 day limit allows me to coordinate the sending out of material kits and also to set my "office hours" whereby you can Whatsapp me for any help if necessary (see next question).

Will the instructor be available to help me out?
Since this is not a Zoom session, I can't guarantee that I can respond immediately if you need help. However, for all local students, I will provide my Whatsapp number and have Office Hours between 10am to 10pm. This means I'll keep my phone close by and you can message me anytime within that period to ask for help or send photos. I'll get back to you ASAP.
What about materials and tools?
I've listed the complete list of recommended materials and tools to have under the curriculum - it's free to preview, so that you can prepare everything before the workshop launches.

For local students, you'll have the option of purchasing a SGD$40 material set* from me under the SGD$90 pricing option. After the closing date for sign-ups, I'll have them couriered over to you on fixed dates (see schedule above). The contents of the material kit is also free to preview under the 'Tools and Materials' section in the curriculum.

*Limited to one material kit per student. (This is to avoid multiple people sharing access to a single student's account. However, I'll be happy to sell more kits after the workshop video expires, so remember to download the summary sheet and templates!)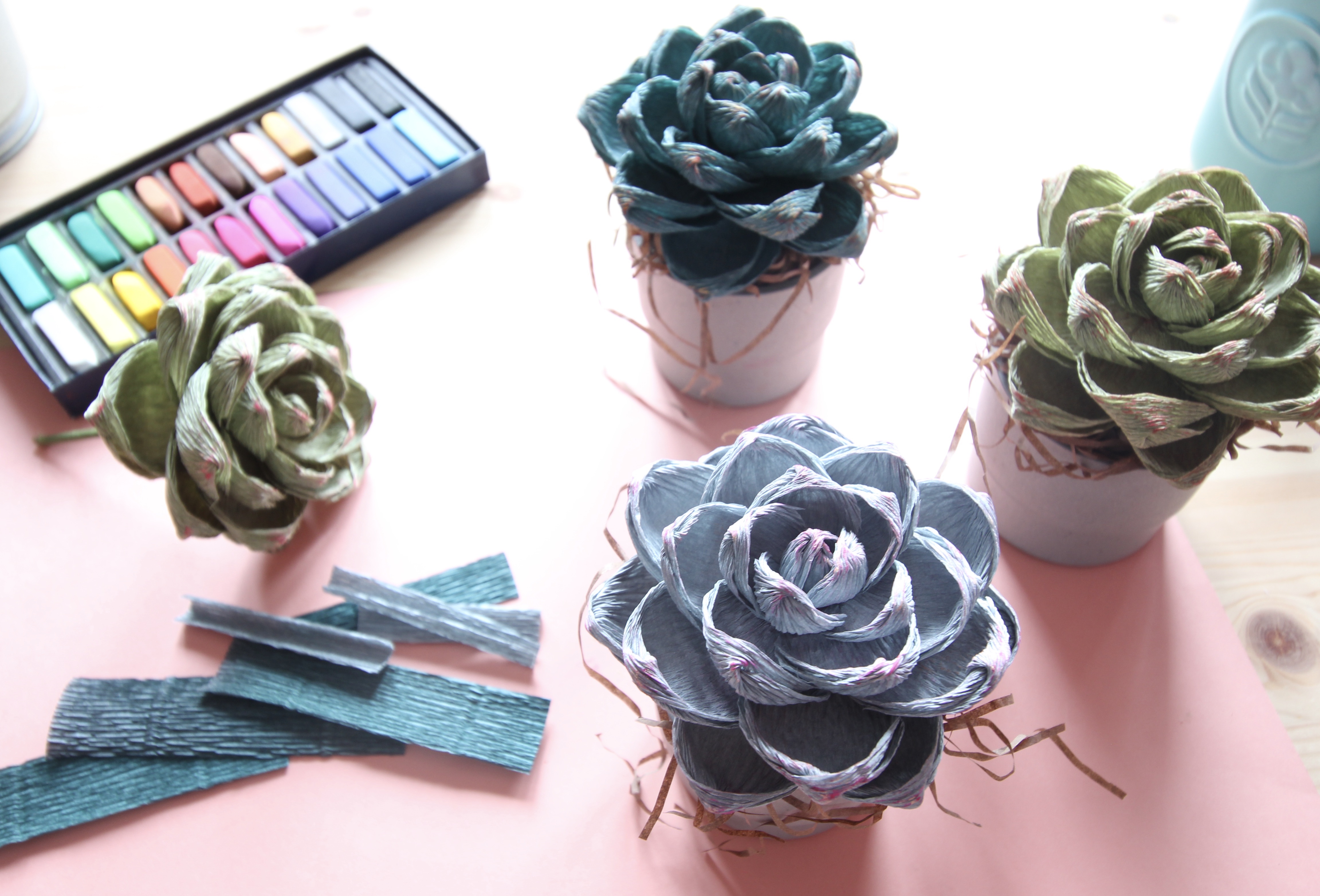 I'm based in Singapore and want to purchase the material set! What will be provided?
Only 11 material kits will be available to purchase for 11 students only! Limited to one kit per student. Here's what I'll pack for you (you can also preview photos under the Curriculum Section):

SGD$40 MATERIAL KIT*
- 3 small grey IKEA NYPON pots pre-packed with floral foam and paper straw
- Pre-cut Italian Crepe Paper Strips in 3 colours (that's right, you won't need to cut a thing!)
- 3 pre-cut Florist Wire
- Courier Fee Inclusive

*NO Hot Glue Gun or Soft Pastels are included! These can be purchased from Art Friend. If you'll like to top-up your kit from me, please let me know via email ([email protected]), add-on prices are as follows:

ADD-ON OPTIONS
- Mini Hot Glue Gun + 5 glue sticks +$12
- Faber Castell Soft Pastel Set of 24 +$20

I missed the deadline to register! Can I join this workshop in the future?

Yes! Depending on the popularity of the class, and availability of materials, I'll be able to bring back this workshop for future months :)
Why is the workshop priced at $90 (inclusive of materials)?

I question pricing too when I'm looking to attend workshops, so I understand this question! Truthfully, this is about the usual price I charge my in-person workshops ($90-$110), and its pretty much the market rate of local workshops in Singapore. Plus, unlike an in-person session, you're free to replay this workshop multiple times and run it at your own pace.
The Breakdown: $50 goes to planning, filming, editing the videos, paying the administrative costs for payment and hosting the video on this pretty platform. $40 goes to not just the materials, but time spent on cutting the crepe paper parts for you (which I import from Italy, so its the good stuff yo), time spent packing, cost of packaging materials and courier fees (which includes tracking, and usually ranges from $10-$16).
Don't forget, you won't need to pay for commuting fees to and from the workshop venue, hence I hope it's a reasonable price to ask for, and I thank you in advance for your support!

Your Instructor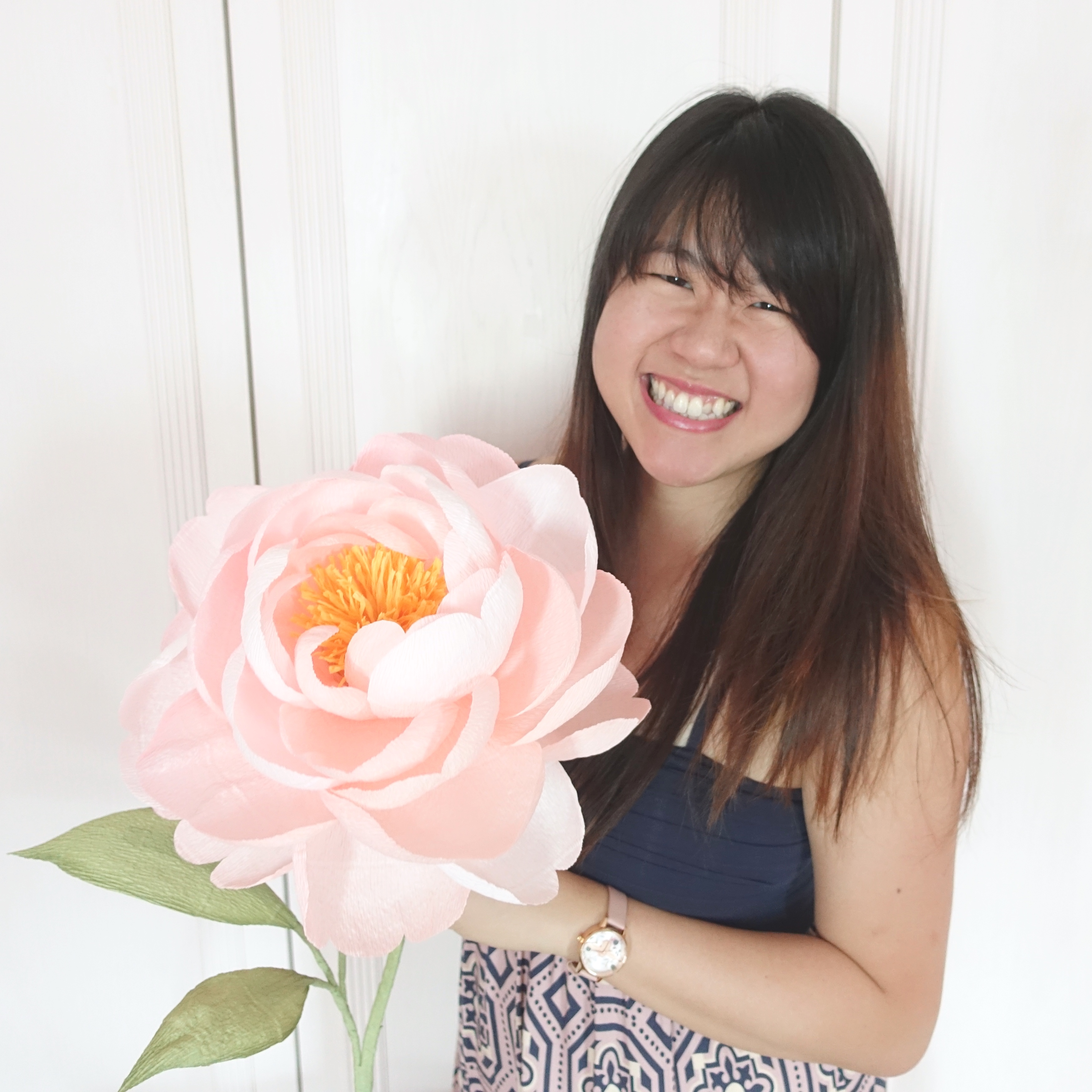 Eileen is a self-taught crepe paper artist from sunny little Singapore. She launched 'Miss Petal & Bloom' in 2015 and has crafted blooms for many weddings, anniversaries, and special events. She has worked with brands such as Kate Spade New York, Franck Muller, Harper's Bazaar Singapore, The Body Shop, Keds, Mont Blanc, and many more. She is excited to teach and hopes to spread love, joy and inspiration through her paper blooms.
Course Curriculum
Pre-workshop Information
Available in days
days after you enroll
Frequently Asked Questions
What if I am unhappy with the workshop?
Unfortunately, I will not be offering refunds for workshops. However, if for any reason you're unhappy with the workshop, please reach out to Eileen and we'll see what we can do!
This course is closed for enrollment.